CORE CONCEPTS IN TELEHEALTH CERTIFICATE PROGRAM
LEARN BEST PRACTICES FOR IMPLEMENTING AND USING TELEHEALTH ACROSS A BROAD SPECTRUM OF SERVICE AREAS.
The ATA has partnered with the American Board of Telehealth to offer our current Level 1-5 members discounted registration rates to the CORE - Clinical, Operational, Regulatory and Ethics - Concepts in Telehealth Certificate Program.
Through the CORE program, ATA member organizations can offer their healthcare professionals access an accredited curriculum to learn best practices for implementing and using telehealth across the continuum, as well as to stay current on compliance and competencies.
The comprehensive program is easy to complete through an online, self-paced, interactive and engaging platform. The CORE Concepts program is appropriate for professionals interested in or currently practicing telehealth, including physicians, advanced practice providers, pharmacists, nurses, social workers, health care administrators, information technology professions, regulators and educators.
The CORE Concepts in Telehealth Certificate Program is launched in sequence with the publication of validated telehealth competency development with Harvard Medical Faculty Physician Group. Modules include:
Introduction to Telehealth

Technology

Telepresence Skills

Licensing, Credentialing, and Privileging

Legal, Regulatory, and Quality

Reimbursement

Ethical Considerations
Why get a certificate?
Validate you have the knowledge needed to succeed in the field
Demonstrate commitment to your profession
Show dedication to maintaining quality and competency in your work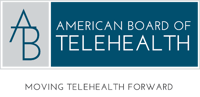 About the American Board of Telehealth
Through world-class education, the American Board of Telehealth (ABT) standardizes the integration of safe, high-quality, cost-effective, and accessible telehealth into the delivery of care. Through research and evidence-based telehealth education, equips physicians, nurses, clinicians, educators, and administrators with the competencies needed to deliver world-class care to patients. Education and certificate programs include CME/CNE, are offered both in-person and online learning opportunities. ABT's curriculum was developed with telehealth physician and nurse experts from across the care continuum, as well as discipline-specific and specialty focused telehealth content. @ABTelehealth