ATA2020 VIRTUAL CONFERENCE & EXPO
EXHIBITOR AND SPONSORS RESOURCES
ATA2020 is the world's largest telehealth innovation event taking place Monday, June 22 – Friday, June 26, 2020.
Take full advantage of all ATA2020 has to offer from Live and On Demand conference programming to exploring virtual exhibits and networking with industry colleagues before and during the virtual event.
Click the links below to learn more:
TAKE A TOUR OF THE ATA2020 VIRTUAL EVENT PLATFORM
Click the Chapters Icon on the Bottom Right Side of the Player to Skip to a Specific Section
PRe-conference NEtworking
ATA2020 is facilitating pre-conference connections between all registered attendees, exhibitors and speakers. Follow the instructions below to access your Connect account and begin networking. You can also download the Exhibitor/Sponsor Event Networking Guide.
Access Your Connect Account
Click here to access your Connect account and complete your profile to begin networking before the virtual event.
Enter Your Email - This needs to be the email used to complete your ATA2020 registration.
Enter Your Registration ID - Enter the Registration ID you received in your confirmation email when you registered. Click here if you can't find your Reg ID.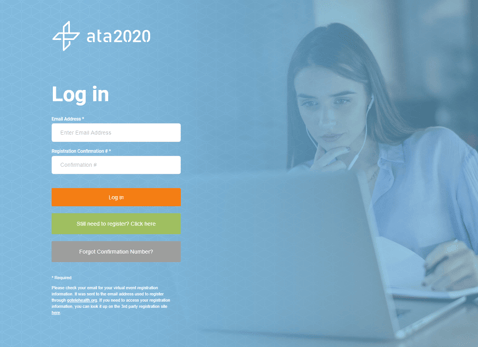 Important Note for First Time Logins - If you have received a meeting request and can't access the platform, click here to login and follow the steps above.
Update Your Profile
In order for the Connect platform to provide the best recommendations of people to meet and increase the chances that people accept your meetings, one element is absolutely crucial: complete your profile!
Profiles bring plenty of opportunities for companies to showcase their unique capabilities and products in a single overview. Simple to set up and easy for attendees to explore.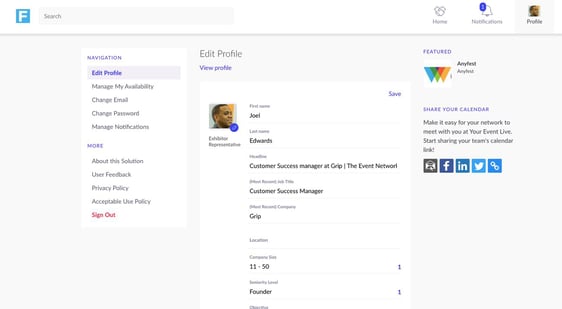 Fill Out Your Calendar Availability
In order for your organization's representatives to effectively manage their schedules they need to update their calendar availability. Each team member should navigate to their personal profile in the platform.
Under the profile tab choose "Manage My Availability" on the left side navigation. Adjust the calendar to note when you are available to meet with attendees. Please note the platform only shows the next 7 days of the calendar at any given time - as days progress the calendar view adjusts accordingly. If you populate your calendar today, you'll need to go back in and add availability to the remaining event days as they become visible.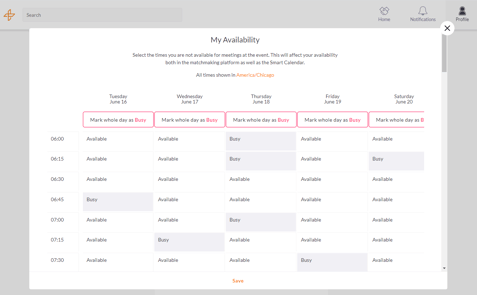 Connect with Attendees & Schedule 1:1 Meetings
In 4 simple steps, you'll begin connecting with attendees.
Request - Get recommendations, search and scroll through lists to request meetings for a time and date that works for you.

Accept - Receive incoming meeting requests via notifications or in your email and accept them to have them synced to your personal calendar.

Join - Virtual meetings can be joined 5 minutes before the scheduled start time. You can join the meeting from your email or the platform by clicking the "Open Virtual Meeting Room" button.
Rate - Give anonymous feedback on your meeting with "Good", "Bad" or "Didn't Happen: and give a reason for your rating to qualify your post-event follow-ups.


Matchmaking
Recommended matches are provided based on similar interests in the profile information provided by the user.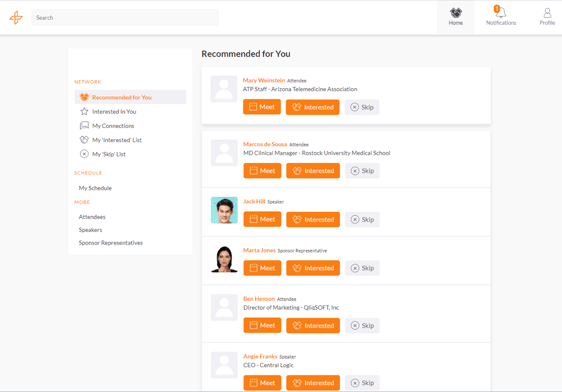 Schedule a Meeting
After selecting the contact, choose the date and time you wish to request a meeting. The selected user will receive an email notification of the request in their registered email as well as on the ATA2020 Connect platform.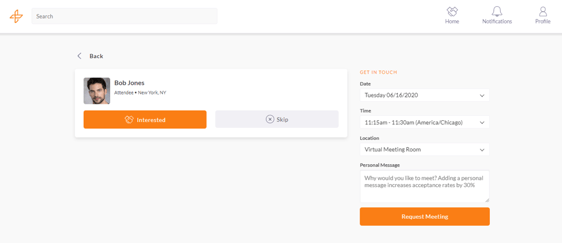 1:1 Chats
You can chat with any of your online connections. A connection is two people with mutual interest so make sure to click the Interested button on their profile. The chat window opens to the right for the communication to begin or continue.